Our meals are prepared by our cook Sally and we work closely with any dietary requirements your child may have.
Lunchtime is an important part of your child's social development and we encourage them to be social occasions where children are introduced to home cooked, nutritious food and can develop their independence skills.
Food hygiene came on 13.05.2021 and rated us 5 stars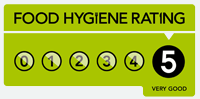 We provide breakfast of cereal or toast at 8:00am
Mid-morning snack at 10am
2 course lunch at 12pm
Mid afternoon snack at 2pm and
Light tea at 4pm
All meals have the choice of milk or water.
The children are encouraged to be independent to freely access drinks and to serve their meals making the choices they fancy.
Baby feeding: Whether your baby is fed on formula or breast milk we can work with your established feeding routines.
We ask that you bring your baby's milk with a sterilised bottles – there is not need to make bottles up beforehand. If you are breast feeding we are happy for you to come into the nursery to continue.
Introducing solids:Your baby may go through the weaning stages whilst attending nursery and we will work alongside your feeding routine.
Lunch time menu
Teatime Menu